pure-profi collection
UNCOMPROMISING QUALITY AND DESIGN.
The original-profi collection®, with its iconic design and premium quality, has been a global success story for four decades. Crafted to the most modern high-quality standards, today's pure-profi collection represents the next evolution of Fissler's award-winning cookware line.
The new pure-profi design combines straight, clean lines with a striking contour. It is the perfect cookware for home cooks with high standards, and the quality and design make a clear lifestyle statement.
Purchase directly from the manufacturer
Numerous quality & design awards
Quality and design features of the pure-profi collection
The pure-profi collection sets new standards and is uncompromising in terms of quality: 100% Made in Germany from high-quality 18/10 stainless steel.
The design is simple and pure, combining straight lines and a striking contour – creating a new icon of cookware. The glazed body is accented with polished highlights both on handles and lids.
The 10-year warranty is proof of the line's exceptional quality. The design is aesthetically pleasing – and smart.
Clever pot details – Made by Fissler
Large cold metal grips
Large, comfortable metal handles are attached to the body and pot lid. These stay-cool handles will remain at a pleasant temperature on the stovetop.
Laser-etched measurement markings
All pots, pans, and roasters in the pure-profi collection have integrated measuring markings for quarts and liters. This makes it easy to keep track of liquid volumes, even without a measuring cup. Since the markings are laser-etched, they are designed to last, without fading over time.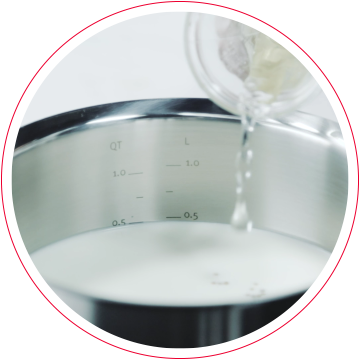 Extra-wide pouring rim
The extra-wide pouring rim of the pure-profi collection demonstrates the clever combination of form and function. It lets you pour liquids simply and cleanly.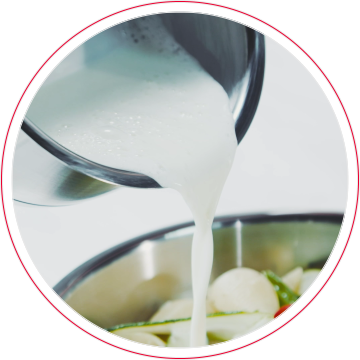 Cookstar all-stove base
The cookstar® all-stove base, which lies perfectly flat on the cooking surface, ensures fast and even heat distribution. The redesigned base makes the pure-profi collection particularly energy-efficient. The cookware works on all stovetops, including induction.
Experience pure-profi cookware in action!